Simple. Essential. Local Messaging.
SCROLL DOWN TO EXPLORE
Staying in touch just got easier!
Discover where your friends are on a fun interactive world map.
---
Message Friends Nearby.
There's always a conversation you don't want to miss!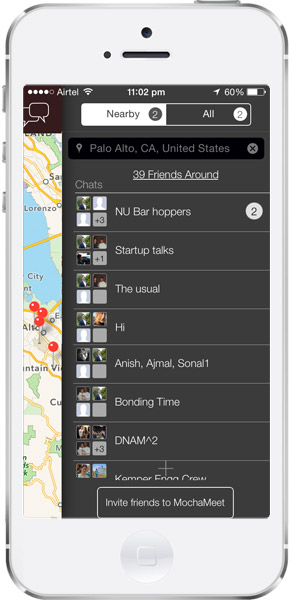 Real friendships need facetime.
Monthly reminders will make sure you never forget.
Frequently Asked Questions
What location is shared?
MochaMeet shares only your CITY with your friends but never shares your exact location in that city. Your friends may find out that you are in San Francisco or London but they won't know anything more specific (unless of course you tell them yourself). The same goes for the friends you see on your own map. You will see their last updated cities and not their specific locations in that city.
What do "Nearby Chats" mean?
MochaMeet has the concept of "Nearby Chats". If any group you are a part of has at least one friend within a 25 mile radius around you, then that group will show up in the "Nearby Chats" section of the app.
How do reminders work?
Whenever you create a chat, you have the option of telling MochaMeet to send you a reminder for your group to catch up on a monthly basis. In that case, once every month, the app will post to your group's chat to alert everyone to meet up.
How do I create a group chat?
In case your friends have already added you to a group, it will show up in your chats (in the "All" section). If you want to create a group, simply click on the "+" button on the map.
How do I add friends?
MochaMeet links to your phone's contact list and facebook, creating your network automatically for you. It will never message your friends nor post anything on your wall without you explicitly requesting it to do so.
How much does it cost?
MochaMeet is 100% free. Download it today from the Apple App Store.